3184 Church St, PO Box 739  ~  
Manchester, MD  21102  ~  
410-374-4463
Immanuel welcome Pastor Charles Marshall!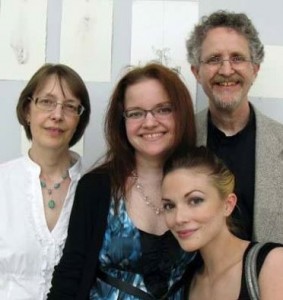 Pastor Charles Marshall and his family.
Caroline, his wife and daughters Sarah and Joanna.
Immanuel Lutheran Church in Manchester is pleased to welcome their new pastor, The Rev. Charles Marshall, who will begin his ministerial responsibilities on the first of April.
The Rev. Matt Schenning retired from the congregation in June of 2014 after 25 years of ministry at Immanuel. Bridge pastors have sustained the worship leadership in the interim.
Charles Marshall graduated with a BA in Linguistics from Syracuse University, and he earned his Masters of Divinity from Gettysburg Seminary. He was most recently Senior Pastor at Hope Evangelical Lutheran Church in Essex (Middleborough), Baltimore County, MD.
He is no stranger to our area, having served for 11years as pastor of the Mt. Joy-St. Paul's (Harney) Lutheran Parish, part of the Westminster Conference of the Delaware-Maryland Synod, ELCA.
The basis for his seeking a new call is that he felt that the time had come for a change. In his words "After a period of prayer and listening, I felt God was opening the door to a new call".
Pastor Marshall has many ministerial attributes of importance to the Immanuel congregation;
He is a competent preacher, his messages grounded in Scripture. He is comfortable with, and conducts children's sermons as part of the service. He frequently uses "Howard" his puppet for emphasis. He derives energy and satisfaction when working with children and youth.
He considers himself a "singing Pastor", and would continue to employ song and his playing the guitar in his new call.
He enjoys regular pastoral visitations and bringing the Sacraments to those home or institutional bound.
Christian Education is a particular gift. His peers in the clergy consider him a "Biblical Scholar". He loves to teach the Scripture. He is a trained and certified leader for the Vision to Action Planning, Healthy Congregations Workshops, Bethel Series Bible Studies, and Crossways and the Crossways Divine Drama. He has served on the DE/MD Synodical Christian Education Committee coordinating support for our regional congregations.
Pastor Marshall with his wife and a daughter just closed on a home in the Westminster area, strategically located near two of our unique Lutheran facilities in Carroll County, Carroll Lutheran Village, and Carroll Lutheran School.
+ + + + + + + + + + +
Immanuel Lutheran Church now accepts Online Giving!
Follow the link below to give once or setup recurring donations today.
Under "Latest News" on the left side:
Worship Service Bulletins
Pastor's Recorded Sermons
'The Visitor' Newsletter for May 2016 and June 2016